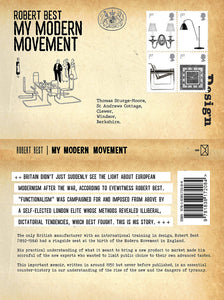 Paperback
by Robert Dudley Best
Robert Dudley Best (1892-1984) had a ringside seat at the birth of the Modern Movement in England and this remarkable memoir sets the story straight on what the real issues were as British design emerged into the 20th century.
For those of "advanced" tastes, ​the Modern Movement was a welcome corrective to the debased aesthetics of the commercial world. Massed housing of the 1920s and 30s was as untutored as the products of light industry and both operated far from the enlightened thinking coming out of Central Europe that sought to harness architecture and design to social progress.
Robert Best, the only British industrialist to have trained at art school, shared the goal of better mass education but was troubled by the methods of Modernism's propagandists, for reasons that they found hard to understand. If "the few" knew better than "the many", and "the many" were incapable of raising their own standards, was it not reasonable for "the few" to impose those standards from above? And if they did not do so, were they not betraying their enlightenment and their obligation to help elevate the less capable? 
Best did not think so, and in this extraordinary memoir, written in the early 1950s but never published, he explores his own growing concerns about the sense of noblesse oblige that directed such bodies as the Council of Industrial Design, set up in 1944, to raise the quality of British manufacturing and its saleability.
This overdue book needs to be read widely to understand what lay behind the idealism of the design world in the second quarter of the 20th century.​
With an introduction by Stephen Games, biographer of Sir Nikolaus Pevsner.